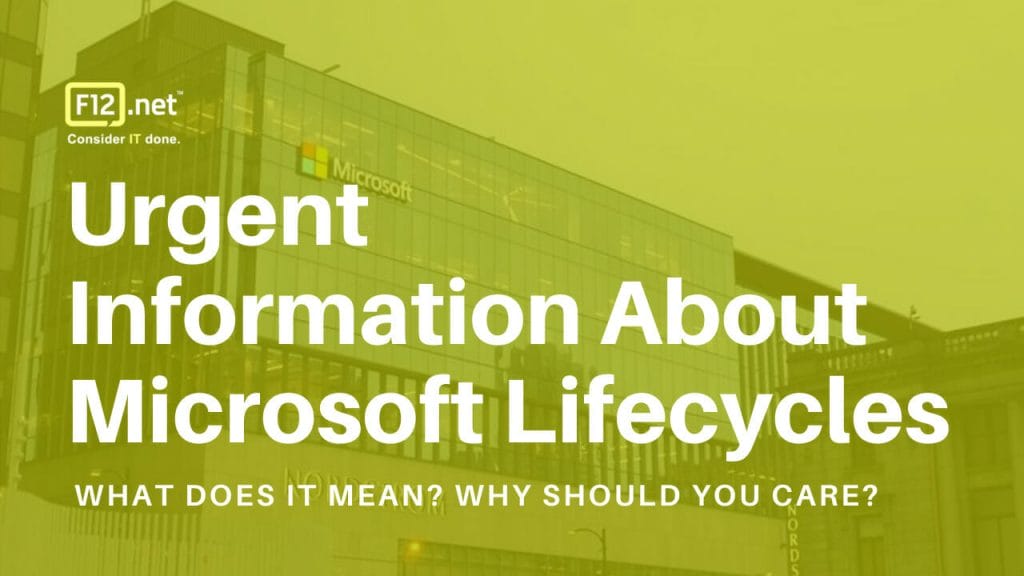 Several core Microsoft products have reached "end of life." What does this mean? Why should you care and how can F12 help? Continue reading to learn more:
Microsoft Lifecycles Primer
Microsoft Products come with expiry dates, and, as with seafood and potato salad, you are wise to take heed. There are four main reasons you should avoid using Microsoft products past their due date:
Security – Security patches stop, thereby increasing the risk of viruses, breaches, data theft, and crypto-locker attacks
Compatibility – Expired products may not work with files, websites, plug-ins, and other services
Productivity – Besides interruptions from the first two items, older versions do not have the latest features, templates, and AI-driven automation built into Microsoft's newest products
Compliance – Using expired products could put you offside with requirements from regulators, insurers, customers, or investors
Microsoft's traditional products fall under a Fixed Lifecycle Policy with two phases:
Mainstream Support – Traditionally, Microsoft provides each new product with five years of feature updates, warranty support, and security updates.
Extended Support – After mainstream support ends, Microsoft provides a further five years of security updates with limited paid support options. Microsoft will not assure compatibility nor provide feature updates.
New cloud-based subscription products and services like Microsoft 365 fall under the Modern Lifecycle Policy.  Under the Modern Lifecycle Policy, Microsoft delivers continuous support so long as the customer keeps current, stays licensed, and Microsoft continues the product.  Microsoft will provide at least a year's notice before discontinuing products under the Modern Lifecycle.
Key Product Lifecycles
2020 is a big year for Microsoft products hitting the end of the road. Below are some key product dates, as well as information on how F12 can help.
Product
How F12 Can Help
Windows 7
January 14th, 2020
Refresh your fleet with F12's attractive leasing options. Or consider F12 Plus to eradicate obsolescence forever.F12 also sells subscriptions to Windows 7 Extended Security Updates (ESU) to buy you time.
Microsoft Office 2010
October 13th, 2020
Enroll in monthly Microsoft 365 subscriptions from F12 at Microsoft's annual discount rate.F12 also provides competitive Open Licensing and Open Value options if you prefer owning software outright.
Microsoft Office 2013
April 11th, 2023
** October 13th, 2020
Work with F12 to start planning your upgrade.
**After October 13th, Microsoft will no longer support Office 2013 client connectivity to Office 365. 
Windows Server 2008 & 2008 R2
January 14th, 2020
F12 will migrate your servers to the cloud or new on-prem servers or VMs. F12 can help you navigate the complexity of server licensing. Even better, servers managed by F12 can leverage flexible monthly SPLA subscriptions.
SQL Server 2008 & 2008 R2
July 9th, 2019
F12 can help migrate your SQL databases to a newer, safer version of SQL.  Newer versions of SQL have compatibility for older database versions.  SQL can be expensive; speak with F12 about how SPLA licensing can help.
Exchange Server 2010
October 13th, 2020
Let F12 move email services to the cloud for better security and resiliency.  Or, if you need to keep email in-house, let's get started on a migration plan.  Either way, F12 offers monthly subscription licensing to help manage the move.
What Next?
Please don't wait until it is too late. Contact F12 today to get the planning started to modernize your IT environment. Be sure to ask how Microsoft's latest innovations drive productivity and collaboration from anywhere.