This month:
Are You Making The Most of Your Data?
---
---
Most people I chat with know how to access their data—but aren't sure where it lives, or what to do with it. According to a recent survey, 40% of Canadians weren't actually sure where the data they accessed for work was stored. That also indicates that they haven't even begun to consider what to do with all that valuable information.
Few people realize that their workplaces are sitting on potentially valuable storehouses of data. Spurred by the pandemic, many Canadian entrepreneurs have moved their processes to the virtual world. The result is the creation of untold gigabytes of information. Those data can be analyzed to generate insights to optimize, well, everything—from sales conversations to driving routes, customer interactions and scheduling processes. Yet very few companies are conducting that analysis because they don't know how.
Feel like your business is sitting on a pile of data that could be used to help your company achieve its potential? Give us a call to discuss how to optimize things with a complimentary consultation.
Yours in innovation and leadership,
Michael Contento
Business Innovation Executive
---
Today: The Federal Program You've Never Heard Of (And What You Need To Do About It)
CyberSecure Canada is an important federal program that can benefit all small and medium-sized organizations. Our experts will share details about the program, how to get certified, and share information about security controls you should use to protect yourself from cyber threats.
When: Wednesday, April 27, 2022
Time: 1 pm EST/11 am MT
---
IN CASE YOU MISSED IT
Anatomy of a Cyber Attack 
What happens when your company's hit by cyber attack—and what to do first.
---
WEBINARINSIGHTS
Deconstructing Digital Transformation
Learn how digital transformation has helped other clients—and can help you, too.
---
MASTERCHAT HIGHLIGHTS
Thinking About Selling Your MSP Business?
How to prepare, based on my personal experience selling my own IT business, MBU, to F12.
---
CBC
Cyber Security Experts Needed
Millions of open cybercrime expert positions open as threats proliferate. (We can help!)
LEARN MORE BOUT CYBER SECURITY
---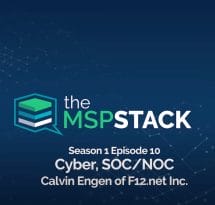 THE MSP STACK PODCAST
Cyber SOC/NOC with F12's Calvin Engen
Why your business should implement both Network and Security Operations Centres.
---
FULL FUNNEL FREEDOM
Hamish Knox and F12's Devon Gillard 
Our chief marketing officer, Devon Gillard, discusses how defined processes can optimize your sales funnel, and why soft skills are so important.
---
PARTNER SPOTLIGHT
Foresight Canada
This cleantech accelerator brings together innovators, investors and industry players to address the most urgent climate issues—and support a global transition to a green economy.
LEARN MORE ABOUT FORESIGHT CANADA
---
---