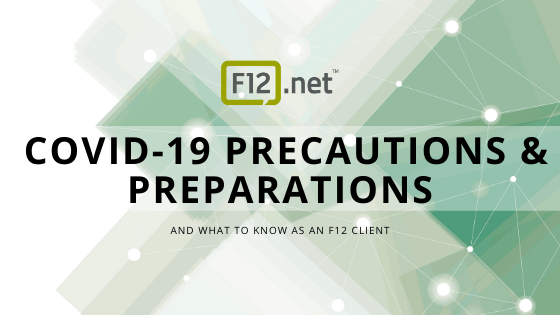 We have all watched, with growing concern, the worldwide spread of COVID-19 (coronavirus).  While the public health risk to Canadians is currently low, the situation can change rapidly. Indeed, yesterday the World Health Organization (WHO) officially declared a pandemic. We are part of a global community; we are in this together.
Steps to Protect Our Community
Last week, F12 initiated an early phase of our Emergency Preparedness Program and adopted reasonable measures to protect our employees, clients, vendors, and communities:
Implemented a daily disinfecting routine covering high-touch surfaces
Reviewed hand-washing and other hygiene best practices with staff
Installed additional hand-sanitation stations
Temporarily suspended shared meal programs
Temporarily suspended non-essential business travel
Formed an advisory team to monitor the pandemic and direct F12's response
Further, anyone who has travelled to or been in close contact with someone who has come from a high-risk area must work from home. If COVID-19 starts spreading in our communities, which seems increasingly likely, anyone with even a mild cough or low-grade fever (37.3 C or more) will need to stay at home. These measures are in keeping with WHO's Getting your workplace ready for COVID-19 recommendations.
Rather than overreact, we will continue to take guidance from the Public Health Agency of Canada and the World Health Organization.
Helping Our Clients Prepare
Many of our clients are assessing their preparedness for a potential lockdown or widespread self-quarantine. F12 has your back, and we are here to help.
First and foremost, wherever possible, ensure essential members of your teams can work from home:
Cloud Infrastructure Customers
If your infrastructure is in the Public Cloud or F12's Private Cloud, reserve capacity is readily available to accommodate an influx of remote users.  F12's support teams will assist our customers with any difficulties in remote access.  We recommend your essential staff review and test their remote access immediately.  Reach out to your F12 Client Relations representative to review your current capacity.
Onsite Infrastructure Customers
Many clients have secure remote access options in place, such as VPN or Remote Desktop Gateway access. Now is the time to ask essential staff to review and confirm home access. If you do not presently have a reliable remote connection method, speak with your F12 Client Relations representative. Old remote access methods such as direct RDP access, are risky. We can help you select the right solution. We can also help you review your internet connectivity to ensure you have sufficient capacity for an increase in remote workers. If you subscribe to F12 Rescue, we can temporarily move you to an F12 Datacentre if your infrastructure is constrained.
Next, consider adopting technologies that can enable a productive remote workplace. Most of F12's customers utilize Microsoft Office 365. There has never been a better time to get collaborating on Microsoft Teams.  You can easily hold sales calls, vendor meetings, internal meetings, and more remotely. For many, Microsoft Teams is already part of your Office 365 package. Here are some resources to help to get you started:
How to Download Teams on Any Device
Microsoft Teams Video Training
Finally, your employees, customers, vendors, and investors may want to hear from you about your actions and any disruptions for which they should prepare. F12's Client Relations Team can help you navigate conversations about your technical readiness.
F12 Readiness
F12 has a robust Business Continuity Plan (BCP) and can leverage several F12 assets to ensure continuity of service delivery:
We ordinarily service our clients from their home province, yet our three provincial remote support teams can move tickets to another region in the event of a local lockdown
F12's Customer Support Coordinators can triage incoming requests, enabling F12's technical team to work on issues from home through secure channels
F12 can temporarily reassign project and onsite technicians to assist with remote support requests
F12 can conduct client and vendor meetings remotely through Microsoft Teams
At this time, these measures are not necessary.  But, we stand ready to ensure we have our resources focused on supporting your organization through these challenges.  We expect an increase in requests from customers who have not previously planned for a work-at-home scenario. We appreciate your patience, especially if you require assistance modifying your environment.  In the greater interest of our communities, we will give special priority to our health services clients.
COVID-19 has disrupted the global supply chain.  F12 has stocked up on new F12 Plus assets so that we can respond quickly with asset replacements, additions, and upgrades.  If you purchase your equipment, please be mindful of considerable delays in product delivery. Please plan 6 to 8 weeks in advance for additional equipment orders for new employees. The entire IT industry is scrambling after the same limited stock.
Conclusion
We will send out further updates as the situation at F12.net changes.  In the meantime, our F12 family wishes you and your family well.
F12 serves clients with remote IT services across canada