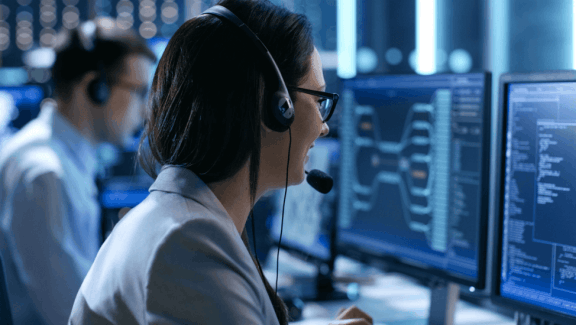 Phishing, malware, ransomware, password breaches, and denial of service attacks—cybercrime is on the rise. If you don't want your data to end up in the hands of online thieves, you'll need an IT support plan in place. Here are some valuable tips on how to secure your network.
1. Educate your employees
Responsible online practices begin with proper education. Employees are often unaware that they themselves could be contributing to online risks. Failing to protect passwords, opening suspicious links, or using social media during office hours can jeopardize your business's infrastructure.
Educate your staff on online threats and ensure your employees are aware of them and fully trained in proper procedures. Your employees should receive up-to-date information about how to protect data and deal with any cyber threats that they may encounter. They should also be educated on how to avoid divulging private or sensitive information about your company online.
Need help training your staff on all the ins and outs of cybersecurity? Our dedicated team of managed IT support services provide full on-site services across Canada, helping to ensure your employees are properly informed and your network is protected.
2. Protect your passwords
Strong passwords are essential to protecting your business's network. A significant number of people rely on a single password, or maybe a selection of 2-3 to keep them safe. But, if you are relying on one password, consider the fact that someone discovering, say, your email password, now has access to everything.
While your employees might be very careful not to accidentally reveal their passwords, there are many other ways for someone to uncover them. By the time your staff realize that someone has accessed one of their accounts, hackers may have locked them out of several, preventing your employees from changing their other passwords.
Staff should also make use of individual accounts with multi-step identification for passwords. This means that employees would need to use more than a simple password to access devices. They may need to enter such information as to their date of birth, their hire date, or their phone number. Keep a hard copy of this information in a secure location.
3. Use protective software
Computer viruses cause major damage and costs to businesses across the globe. Unfortunately, basic anti-virus protection is not enough to protect your precious data from today's sophisticated cybercriminal. You should be protecting your information on multiple fronts using a variety of software, including firewalls, anti-spyware, anti-malware, anti-keyloggers, anti-subversion software, and cryptographic software.
Even with the latest protective software, cybercriminals can still penetrate your network. With our vigilant IT support team monitoring your infrastructure, you can rest easy knowing we provide round-the-clock protection from IT threats before they become IT disasters.
Don't leave your business open to cyberattacks. By ensuring that you have proper safeguards in place, well-trained, knowledgeable employees, and with the right fully managed IT service, you can go a long way toward improving your cybersecurity.
What steps do you take to secure your network? Leave a comment to let us know!