Every year, thousands of organizations gather at summits like CES to flaunt their latest technologies. They gain the buy-in of companies and investors, leading to a flurry of videos and articles that create a buzz.
This excitement drives many companies, often described as early adopters, to gamble on such technologies. However, not all these technologies that make big promises live up to the billing. "Digital transformation" is often wielded as a buzzword by many marketers when, in fact, the technologies are often elementary and require years of experimentation and fine tuning before hitting the market.
Because of such promotion, many businesses have made wrong choices around technology. Often this happens in one of two ways: They invest too early in such technologies or get involved in technology that eventually leads nowhere. Case-in-point, the IBM story.
IBM Watson and the Promised Medical Revolution
We would be surprised if you haven't heard of IBM Watson because of the media frenzy and praises that accompanied IBM's launching of the supercomputer. In February 2011, Watson made their name competing on Jeopardy, the famous TV show. Watson went up against two of the show's superstars Ken Jenning and Brad Rutterand won.
Named after IBM's founder and CEO, Thomas J. Watson, the question-answering computer made waves and garnered headlines across the world. But IBM had plans beyond the game-show world. Watson began to make inroads into the medical world.
For instance, Watson took some patient's records and came up with a list of diagnoses with different levels of confidence using medical literature as support.
In 2015, the Washington Post heralded Watson as "a revolutionary approach to medicine and health care that is likely to have significant social, economic and political consequences." And for years, the AI was piloted across many medical institutions, particularly in a bid to help diagnose and cure cancer but to no avail.
The failure was catastrophic. Just read what tech investor Chamath Palihapitiya had to say about Watson: "Watson is a joke, to be honest. I think that IBM is excellent at using its sales and marketing infrastructure to convince people who have asymmetrically less knowledge to pay for something."
Robert Wachter, chair of the department of medicine at the University of California put it this way in his groundbreaking book The Digital Doctor: Hope, Hype, and Harm at the Dawn of Medicine's Computer Age: "IBM is suffering from its ambition: It was the first company to make a major push to bring AI to the clinic."
"But it also earned ill will and skepticism by boasting of Watson's abilities. They came in with marketing first, product second, and got everybody excited. Then the rubber hit the road. This is an incredibly hard set of problems, and IBM, by being first out, has demonstrated that for everyone else."
This story is a clear-cut example of what Gartner describes as the Hype cycle.
The Hype Cycle
According to Gartner, the hype cycle is "a graphical representation of the life cycle stages a technology goes through from conception to maturity and widespread adoption." It typically occurs in five broad and overlapping stages:
Innovation Trigger: This is the stage where early signs of a technology trigger occur. Although no commercially usable product exists, the media generates excitement and curiosity using concept stories and dreams of radical solutions.
Peak of Inflated Expectations: In this stage, parent companies of the technology amplify their marketing around the product generating excitement and giving the public expectations. More success stories are published and used as proof of a game-changing solution. The early signs of failure also begin from here.
Trough of Disillusionment: As soon as the technology begins to fail in real-life situations, interests will wane. And many of the people who canvassed for the product will be disillusioned over the lack of delivery. Investment may also fall off in this stage.
Slope of Enlightenment: This is the stage where the industry begins to learn lessons from the failure stage and finetunes to produce better products and solutions. You'll see second and third-generation products from technology companies. While conservative companies may be hesitant, more risk-averse companies will fund pilots.
Plateau of Productivity: Once the technologies are fine tuned to provide real-life solutions, mainstream adoption begins. The markers for assessing the viability of the product are set out, and the product will start to show some consistency and pay-off.
Beware of the Hype Cycle
The rather cliched saying that all that glitters is not gold still holds in today's world. Of course, there are many good reasons companies should aim to be early adopters. For starters, you can get a leg up on your competitors. There are many success stories of companies that have broken through by adopting technologies that their competitors were slow to adopt.
However, these success stories are not always the norm. Many companies have suffered from adopting technologies that have not been tried and tested. Following vigorous marketing ads to make decisions on can be a lethal venture. Just as the hype cycle worked in the medical industry, it could easily work in several other sectors.
Here's where IBM Watson lands on Connected Health Pulse's 2020 Digital Health Hype Cycle: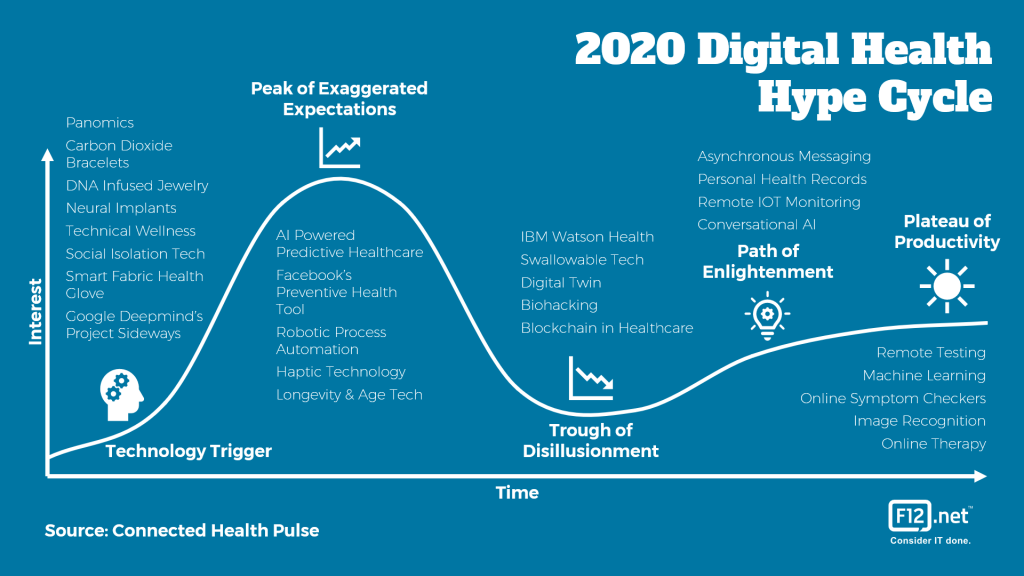 Lessons from the Hype Cycle
There are several lessons you should learn from the hype cycle. Here are a few of them:
Adopt When it is a Bit too Boring
Don't jump  to adopt technology that is still in its infancy stage, even when intense marketing and promotion may make you feel like it is the right choice. Be wary that you may make the wrong decision when everyone is excited and going wild over new tech. In most cases, you're better off waiting until the excitement is over, and the technology dies down in news cycles. If a particular innovation is genuinely making a difference, you'll see it in reviews and referrals from companies who have used it.
As a case in point, now that the proverbial rose has come off of IBM Watson's bloom, pay it attention.  What solutions will emerge, and will it climb toward the Plateau of Productivity?  Time will tell, but don't count it out just because of the present disillusionment.
Buy Solutions not Technology
Almost every time Apple releases a new iPhone, crowds of people lineup at their shops to make purchases. There have been cases where people have lined up for days to get their hands on the latest iPhones. Unfortunately, some of these people are only following the media hype and buzz created around the iPhone.
As a business, your needs will differ based on what you intend to achieve. You should focus on finding solutions for your unique needs and not just having certain technologies because everyone else does.
Look for Incremental Gains
Don't always go for the grand slam. Focus on making incremental changes, and often, these changes, although they seem small, can have a ripple effect. For instance, instead of changing all the technologies hospitals use, focus on improving medical facilities' reliance on, for example, faxes. That small change in communication is already a million-dollar market.
Bolster Internal Capacities
Never go in for new technologies at the expense of your internal team. While you may need to outsource some of your tech needs, make sure that your in-house tech team is given all the resources and support they need to innovate. Here's why: your organization deals with your customers, and they understand the best how to create solutions to serve them.
Look for a Tech Partner
Often, in the world of tech, you'll hear the word "asymmetry of knowledge," this simply refers to areas where you are deficient of information, insights, and experience. And that's what a tech partner resolves. Their skill, expertise, and understanding of the industry can help you make better choices to increase your productivity. That's why you should go for a tech partner with a proven track record and the right mindset to help your business scale while avoiding the hype cycle pitfall.
Why F12 May Just Be for You
While many companies offer IT solutions, F12 does more than helping you with your IT needs for healthcare. We are a productivity provider assisting companies in functioning at their best. From IT strategy, cloud services, disaster recovery planning, simplified employee onboarding, and enhanced cyber threat protection, F12 helps your business thrive. And you wouldn't have to worry about getting caught in the hype cycle trap because F12 takes care of all that. All you need to do is to get in touch.
Last Words
Marketers would always do what they do best: creating a hype train with a product even if it isn't a proven solution. That's why you should be wary of any product that over promises. Instead, focus on solutions and not on technologies while bolstering your internal team. Partnerships with companies like F12 can help you escape the hype train and make better decisions for your business' productivity.