This month:
Future Planning 
---
---
The slower pace of summer often provides an opportunity for you to take some much-needed time off to rest and rejuvenate. But it's also an ideal season to tackle aspects of the business you may not have made time for during the year. One suggestion: start the process to get your company accredited by CyberSecure Canada. It's a national certification that'll not only help protect your business but build trust with your clients, too. You can read more about this program below.
At F12, we believe a huge part of our success is our relationships with our clients. That's why we like to share organizational updates with you, like the two most recent management changes to our company: Mike Maillet joins F12 as COO, stepping in for Ryan Sigouin, who is now our Chief Strategy Officer. These changes will help F12 serve you—our clients—better as we prepare for the future.
Yours in IT and innovation,
The F12 team
www.F12.net
---

CERTIFICATION
What is the CyberSecure Canada Program?
This national cybersecurity certification program helps you protect your business—and build trut with your clients, too.
---
NEW HIRE
Mike Maillet Joins F12 as Chief Operating Officer 
With 20 years' management and leadership experience with two of Canada's top tech service providers, Maillet will help F12 broaden its IT service offerings for Canadian SMEs.
---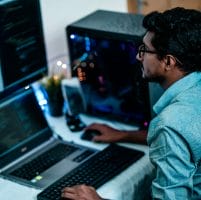 IT SUPPORT
Does F12 Outsource its Help Desk?
Many MSPs outsource their IT support rather than staffing and managing the department themselves. F12 maintains an in-house IT support system, which benefits your business.
---
SPOTLIGHT SERVICE
Why Email-Only Users Are Often an Overlooked Risk
If you have board members or contractors who have access to only email, our Email Support option may be right for you.
---
INNOVATION
Canada's Cultural Problem Around Digital Transformation
A more proactive approach to digital transformation would benefit Canadian businesses. F12 CEO Alex Webb and Ulrike Bahr-Gedalia of the Canadian Chamber of Commerce discuss.
---
TECHNOLOGY
No Warrant Required for Police to See Your Google or Amazon Video
In emergency situations, these two tech giants, unlike their competitors, announce they'll provide warrantless access to customers' home footage.
---