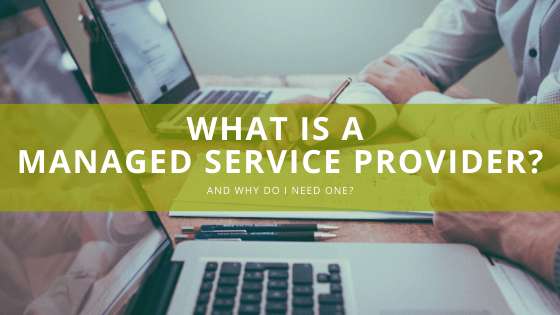 An IT managed service provider (MSP) specializes in supplying a support framework for organizations that need a proactively monitored and managed IT environment.
Traditional IT support companies provide technicians and consultants on an hourly basis.  On the other hand, MSPs provide a fully operational IT function, complete with the personnel, systems, standards, processes, and oversight needed to meet contracted service commitments. Managed services are all about shifting responsibility and risk from the client to the service provider.
Mature MSP's perform maintenance and response services using a centralized console that is connected to your IT infrastructure. Pricing models for an MSP vary but typically operate on a subscription basis.
Continue reading to learn about the basics of using an MSP and what to expect from the relationship.
What Do Businesses Use an MSP For?
Investing in a complete in-house IT department is quite an undertaking. It requires skilled labour, mature processes, active leadership, and ongoing engagement with the ever-evolving tech industry.   The expense of standing up an IT department is dwarfed by the effort and investment required to keep it relevant and reliable. Worse, it can distract you from core business functions. For many, it is not cost-effective or prudent to take all this on internally. 
On the other hand, engaging an IT support company on an ad-hoc basis is not effective for organizations that rely on technology.  The IT company typically gets involved after things are already broken, and they do so on unpredictable timelines. There is scant attention paid towards proactively monitoring and maintaining the environment.  After all, hourly service companies make their money responding to technical issues.
In today's world, the risks of poor IT management practices are severe.  Internal IT may have unfettered access to sensitive information such as human resources, financials, and intellectual property. Malicious staff, cryptolocker, data-loss, downtime, reputation damage, and financial penalties are but a few of the many consequences of ill-designed or poorly managed IT.
It is for these reasons that many business owners and managers turn to an MSP. Working with an MSP like F12 is an efficient, bottom-line friendly solution that allows your IT capabilities to reach further than before.
What Types of Services Do MSPs Offer?
It is no secret that technology is continually evolving. Not only does an MSP help your organization stay on top of relevant changes, but it can help you succeed in your mission.  Technology investments should reduce your costs, reduce your risks, or provide you with competitive advantages. 
If you are considering hiring an MSP, do your homework and make sure that they offer the following services:
While the above-referenced list is not exhaustive, it gives you a good idea as to what you should ask when going through the process of selecting an IT managed service provider, like F12. If you suspect that your company needs a turn-key, all-in-one IT solution, then an MSP is right for you.
How Much Does a Managed Service Provider in Canada Cost?
Working with an MSP is an excellent choice if budget is a concern, which it is for nearly every small and medium-sized enterprise (SME). When exploring MSP options, you will find that companies generally use the following pricing models:
Per device

: Under this model, an MSP will charge a flat rate for every managed device on your network.

Per-user: A per-user pricing model imposes a flat fee based on the number of users on your network; this is the most common method used.
Per-incident: A per-incident pricing model charges a fee per ticket, call, or service engagement. Generally, per-incident fees are over and above a monthly base fee.
All-Inclusive

: All-inclusive package options are like "all-inclusive" vacations. It is a comprehensive all-in-one solution for every device and user under a predictable rate.  Like vacation packages, all-inclusive IT packages have different inclusions and exclusions.
Your MSP will require you to sign a service-level agreement that specifies the terms and conditions of IT services and pricing. Be sure to evaluate any offers carefully and do not hesitate to ask questions for clarification.
There isn't anything more annoying than getting into a contractual agreement with a managed service provider that doesn't align with your genuine needs or that surprises you with unanticipated fees. That's why at F12, we are your partner in IT, working closely with you to find a solution that fits with your business.
Work with an Aligned MSP Partner that Understands Your Business
As you can see, working with an MSP is an excellent solution for small and medium-sized businesses that require full IT support without the added cost and distraction of hiring and managing a full-time IT team. Still, exercise a critical mind when looking for a managed service provider in Canada. Take care to determine if they are a fit for your organization and if they dedicate themselves to understanding industry developments.
F12 offers managed IT Services across Canada in the following locations: