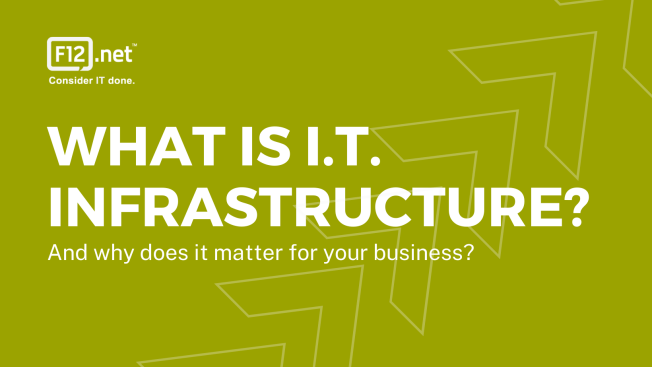 In 2021, it is impossible to imagine any business running without an IT infrastructure. We have come to rely on information technology for virtually every aspect of our working and personal lives. Here is a closer look at what IT infrastructure means, why it is so essential for your business, and how you can protect yourself from IT problems.
What is IT infrastructure?
According to the IT Infrastructure Library's (ITIL) glossary, the term IT infrastructure refers to "all of the hardware, software, networks, facilities etc., that are required to develop, test, deliver, monitor, control or support IT services. The term IT infrastructure includes all information technology but not the associated people, processes and documentation."
Put a little more simply, your company's IT infrastructure includes all the physical devices and software applications needed to run your operations.
Why does it matter for your business?
Technology has fundamentally changed the way we run our personal and professional lives. Every year, businesses in every industry rely more and more on devices to communicate, store data, and process information, to name only a few tasks.
Even if all your business does online is answer customer emails, you rely on IT infrastructure. In this simple example, you need at least a laptop or desktop computer and an internet connection. As your business grows, your reliance on technology likely increases alongside the number of networked devices.
With larger teams and more complex processes comes the need for improved communications, a requirement for more data storage space, and pure computing power. In a word, your IT infrastructure needs to adjust just like the rest of your business.
How can you manage it?
When it is well configured, technology can improve almost every aspect of your company's operations. IT has the power to generate efficiencies and improve productivity. To achieve that, your IT infrastructure needs to be secure and flexible at the same time.
On the other hand, a poorly designed or implemented IT system may lead to lost data or expose your business to other threats like malware and viruses. Extended downtime can cause you to lose customers and income.
If technology is not your primary business, configuring an IT infrastructure that is fit for purpose may seem tricky. This is where managed service providers (MSPs) can help, often with straightforward subscription services. As a small business, you benefit from access to sophisticated security measures and large-scale computing power. At the same time, your IT infrastructure can grow flexibly as your business itself grows. Plus, you have IT experts available when you need their support.
Interested in learning more about IT infrastructure and how it can help your business? Let's talk!