Inside F12.net's License to Kill Risk Cybersecurity Event: A Recap
In an era where cyber threats are constantly evolving, staying one step ahead of adversaries is essential for individuals and organizations. At F12.net, we hosted a unique and exciting cybersecurity event called License to Kill Risk in our Toronto, Edmonton, and Vancouver locations. This exclusive gathering brought together VIPs, F12 secret agents, and leading industry experts in a James Bond-themed environment. Join us as we dive into the thrilling highlights of the event and explore the valuable insights shared by renowned Station Chiefs from five cybersecurity stations.
Station 1 – WatchGuard: Unveiling the Threat Landscape
As VIPs arrived at this station, they were greeted by the WatchGuard Station Chiefs, distinguished experts in cybersecurity. Here, Station Chiefs delved into the dynamic threat landscape, emphasizing the criticality of managing identity and controlling access—core areas of expertise for F12.net, utilizing WatchGuard tools.
Attendees were captivated as the chiefs shared valuable insights into the latest cyber threats faced by organizations. The presence of the masked chief underscored the significance of staying vigilant against adversaries. Protective measures were discussed, equipping VIPs with essential knowledge to safeguard their digital assets effectively. The picture of the four station chiefs, with one donning the Guy Fawkes mask, symbolizes the unity of F12.net's secret agents in combatting cyber threats and their commitment to empowering others with the tools and knowledge necessary for cybersecurity resilience.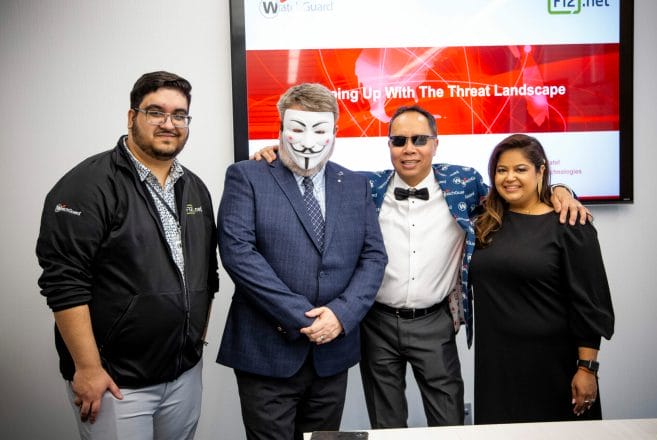 Station 2 – KnowBe4: Training for Counter-Intelligence
VIPs were immersed into a world of training and preparation at our Counter-Intelligence station. KnowBe4 experts introduced attendees to the vital concept of training and testing operatives to be vigilant against social engineering tactics. The presentation stressed the ongoing need for security awareness training to ensure individuals can effectively identify and prevent cyber threats. VIPs left the station better equipped to defend against sophisticated attacks by enhancing their knowledge and skills.
Station 3 – Quickpass: Thwarting Impersonation
Thwarting impersonation took centre stage at this station, where Quickpass specialists unveiled the diverse disguises worn by adversaries through various tools like Deepfake Artificial Intelligence.  Our solution to stop this, and protect VIPs is a product called CyberQP, formerly known as QuickPass. It thwarts impersonators by putting the power to manage privileged access into the palm of VIP hands.  And it does it securely and simply. VIPs gained valuable insights into the significance of robust authentication systems and the importance of adopting measures to prevent unauthorized access.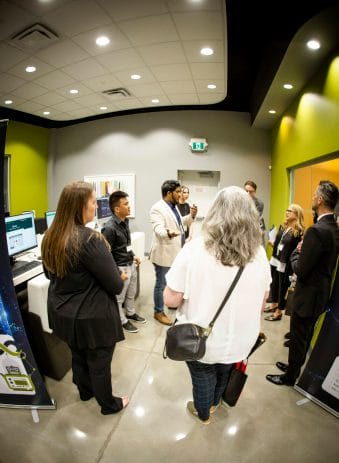 Station 4 – Horizon3.ai: Undercover Double Agents
At this thrilling station, VIPs were immersed in the world of undercover operations conducted by F12.net's double agents. These experts engaged in penetration testing, a process where advanced technology and attack techniques are used to identify weaknesses in companies' defenses. The Station Chiefs simulated real-world attacks, probing for exploitable gaps to expose vulnerabilities within VIPs' networks.
During a penetration test, cybersecurity professionals go to great lengths to find weaknesses and provide valuable insights. This process helps organizations understand their security posture and identify areas for improvement. The Station Chiefs guided VIPs through the interpretation of test results and offered recommendations to strengthen cyber security protections.
This engaging experience emphasized the value of penetration testing as an integral part of a comprehensive security strategy.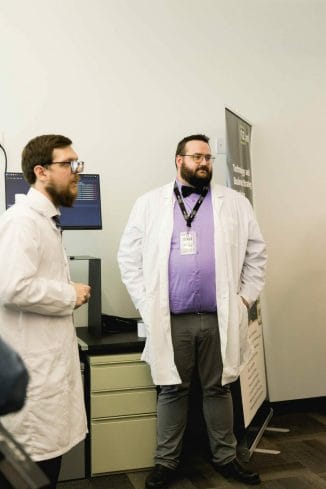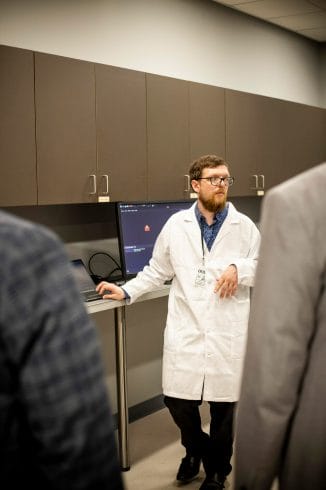 Station 5 – Blackpoint Cyber: Security Operations Centre (SOC)
This unique station provided VIPs with an exclusive glimpse into the inner workings of Blackpoint Cyber's Security Operations Centre (SOC), which operates 24/7 to detect and respond to criminal infiltrators.
Through interactive demonstrations, VIPs witnessed firsthand how F12's hands-on-keyboard cyber security service and Blackpoint's cutting-edge monitoring capabilities work together to protect their assets. The station emphasized the effectiveness of managed detection and response in proactively identifying and mitigating threats in real-time.
By showcasing the collaboration between F12's expertise and Blackpoint's advanced MDR services, VIPs gained a deeper understanding of nation-state grade cybersecurity measures. They saw how this combination enables them to stay one step ahead of sophisticated adversaries and ensures the resilience of their digital infrastructure.
Furthermore:
Apple and HP Product Security
Throughout the event, the importance of securing and managing devices was underscored. VIPs were thrilled to discover that F12 has joined the Apple Consultants Network and is now an Authorized Apple Reseller. Additionally, F12 showcased its Device-as-a-Service program built on the security and reliability of top-tier HP Inc and Apple devices. This emphasis on product security further enhanced attendees' understanding of the holistic approach to cybersecurity.
Conclusion:
The License to Kill Risk event provided VIPs with a truly unparalleled opportunity to gain valuable insights into the ever-evolving world of cybersecurity. From the comprehensive threat landscape briefings at WatchGuard to the hands-on training sessions at KnowBe4, Quickpass's focus on thwarting impersonation, Horizon3.ai's expertise in penetration testing, and Blackpoint's cutting-edge SOC services, each station offered critical knowledge and practical solutions to safeguard VIPs' organizations.
We extend our heartfelt gratitude to our sponsors, Blackpoint, WatchGuard, and HP, for their invaluable contributions in making this event a resounding success. The License to Kill Risk event catalyzed a heightened focus on cybersecurity. It emphasized the ongoing need for vigilance in an ever-evolving threat landscape. With the knowledge gained at this event, VIPs are encouraged to assess their cybersecurity posture and reach out to F12.net to learn more about how we can help ensure the security and resilience of your organization.